Rough Trade NYC held its soft opening yesterday at 64 N 9th Street in Brooklyn. The music of our heart was there in spirit even though I was teaching a computer course in Connecticut on Monday. I was socially connected via the Rough Trade NYC Twitter Page and checked in at the breaks and lunch time 😉
Rough Trade NYC
The 15,000 square-foot music outpost is a former HBO prop warehouse that has been re-fitted to house a meticulously curated collection of books, magazines, records, and CDs, as well as a sizable performance space. Rough Trade NYC is the latest addition in a trend of label-associated record stores that have opened in the Williamsburg and Greenpoint sections of Brooklyn over the past few years alongside Mexican Summer's shop Co-Op 87 and Captured Tracks.
Guardian Green Room
The Guardian Green Room is a multipurpose "Interactive Digital Lounge" that delivers the Guardian's Music content to Rough Trade NYC shoppers. It is housed inside one of the shipping containers which is the interior "theme" of Rough Trade NYC.
The room is outfitted with touchscreen displays that visitors can use to read Guardian music coverage, as well as to communicate with the outside world.
"Visitors will be able to explore the Guardian's music and cultural coverage, interface and engage with the Guardian's wide assortment of interactive content, browse store events and daily happenings, compare music tastes and cultural trends across the Atlantic, share insights, ideas and opinions," The Guardian states.
The room is positioned as an in-store content creation hub. The Guardian and Rough Trade NYC have established a powerful "International" partnership. Their mutual goal is to prove Rough Trade NYC to be a trusted global symbol of personable music retail.
I champion this idea. My guess is that the synergy The Guardian and Rough Trade NYC is generating will help forge informed customers who will make pertinent music selections with lasting value. I also feel the digital content will help people browse record stacks with a more discernible taste. This team approach will aid customers who aren't sure what they want to buy. Having accessibility to interactive content becomes the next logical step music consumers could take before/after utilizing the in-store listening stations. I think The Guardian Green Room will serve as an opinion influence.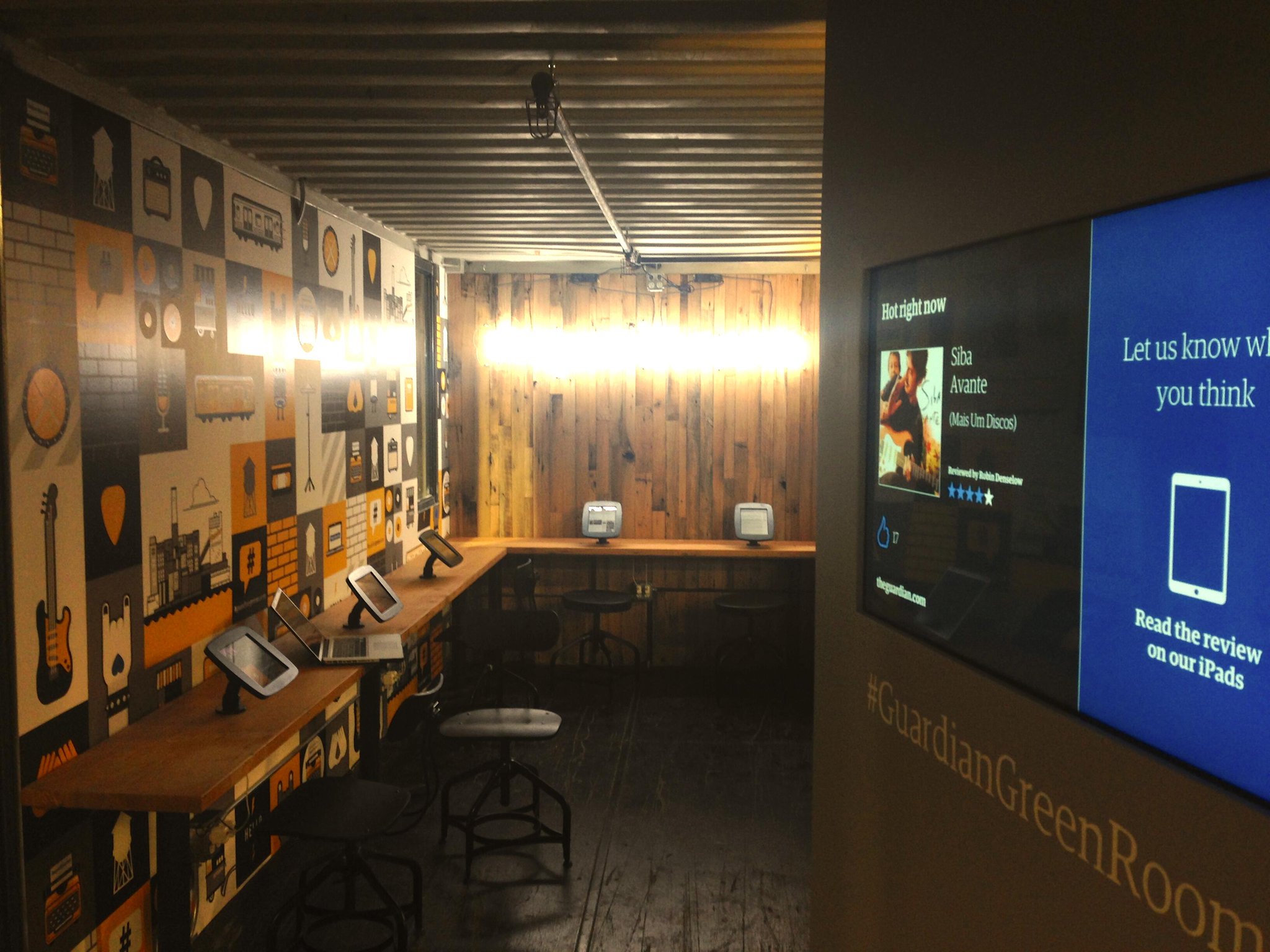 I applaud Rough Trade NYC as they bivouac in with their strategy to neutralize Internet music purchasing. Buying on the Web is a cold and nebulous experience. It's great to have these sanctions lifted by a music outpost that cares about promoting and selling music for the right reasons, personal enjoyment, deeper connection and final satisfaction!
Related articles