I deliberated about today's blog post between two music journalists whose last name begins with the letter D. My choice was between Stephen Davis and Anthony Decurtis. I decided to write this music blog post about Anthony DeCurtis. I trust I am not placing too much emphasis on music journalists who own a Rolling Stone Magazine, New York Times pedigree.
Anthony DeCurtis
The closer I examined Anthony DeCurtis publishing accomplishments I discovered how he executes his craft. A side goal of my blogging effort is to glean as much as I can from this illustrious collective to improve my music journalism skill.
Anthony DeCurtis holds a Ph.D. in American literature from Indiana University, and teaches in the creative writing program at the University of Pennsylvania.  He resides in New York City.
I value how expressly Anthony DeCurtis conducts the art of interviewing famous musicians. I love to read interviews that form a trust with the performing artist. Anthony DeCurtis has perfected his interview style to an interpretation level that few music journalists ever achieve.
Anthony DeCurtis leads interviews with celebrities at the 92Y. Watch his interview session with Nas from 1/8/13 here.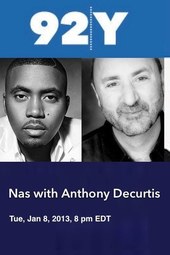 I especially like the structure of his book, In Other Words: Artists Talk About Life and Work. It is a collection of the most intimate and revealing interviews by Anthony DeCurtis.  DeCurtis wrote new introductions which tell the story behind these stories, transforming these collected works into an episodic memoir of a life on the front lines of cultural journalism.
Related articles